To celebrate their 10th anniversary MXZEHN enter the theater with the performance 10×10 commissioned by the e.werk Festival Weimar. The video artists installed a mega videomschine in the "Maschinensaal" of the Deutsches Nationaltheater Weimar. Ten screens and monitors show different sections in a circuit flow that can be manipulated and thus performed on many knobs and switches. Together with composer Marc Sauter and musician Agios Fellekapolakis the artists Stefan Kraus and
Bahadir Hamdemir conquer the theater stage for VJ Art. For a decade the VJ art group MXZEHN – 25 Masterpieces per second thinks of the moving image as a live, visual instrument. Elaborate arrangements of equipment lay ground for virtuous improvisations. Analogue glitch and digital real time compositing complement each other in the work of MXZEHN and stay performable at all times.
Elaborate arrangements of equipment lay ground for virtuous improvisations.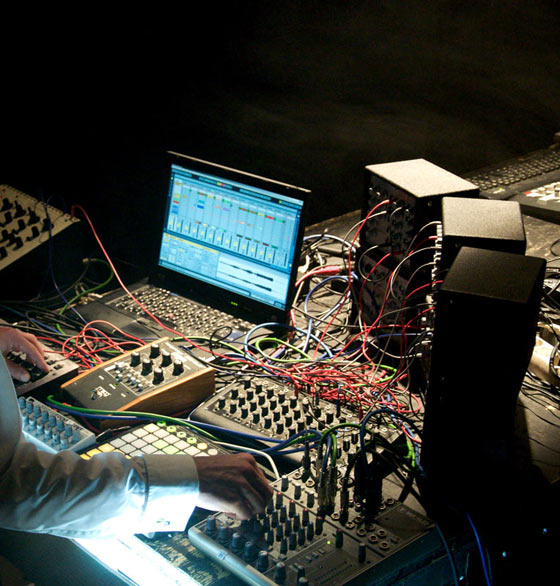 Useful links
That's how I like my setup. Well organized in the beginning but ready to go its way on the path of unforeseen chaos. The composition for this evening was semi preproduced – hence the computer. Since the music is the lead voice for all the video dramaturgy for this show it is not that wise to totally improvise without a backup anchor. So we knew at this and that point in the show a certain sound or track would kick in as a beacon for us to know where we are in the performance. But i must say – computers don't play well with analog equipment. A computer is not really real time – and latency in the signal path just sucks. Even if it is just a few milliseconds. It may not be that important on the visual side because your eyes will forgive that – but your ears will know that something is wrong, even if you can't really define the source of it. But hey, maybe that's just me. Anyway, the performance was very well received by the audience and there were more than a few people standing outside because every seat in the theater was occupied. And so the Deutsches Nationaltheater Weimar was ready to bring an audiovisual concert on its big main stage next year.
---
Click on pics for full size
Photos by Stefan Kraus and Candy Welz
---